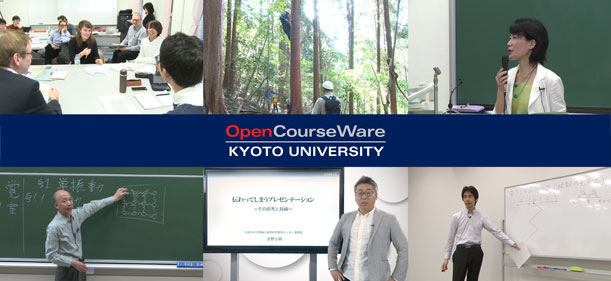 OCW
A system for recording and online publishing of lectures, symposia, events, etc.
Outline
The idea of OCW originated at MIT with the aim of making freely available to the public materials for all courses offered as part of the regular university curriculum. Since its launch at MIT in 2002, OCW has been adopted by a growing number of universities worldwide and has developed into an international network known as the Open Education Consortium.
OCW at Kyoto University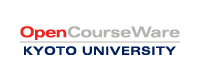 Kyoto University has been using OCW to disseminate content such as lecture videos, lecture notes, research workshops, symposia, and speeches to audiences both within and beyond the university since 2005. Videos and other materials can all be accessed free of charge.
OCW is provided with the aim of opening Kyoto University's doors wider and making the content of university classes known to everyone, including Kyoto University students, faculty and administrative staff members; other university students; researchers in associated scholarly organizations; senior high school students seeking admission to Kyoto University; and working adults hoping to undertake further studies. A further aim is to enhance Kyoto University's visibility not only domestically, but also across the globe, and to share and contribute to the intellectual assets of humanity as a whole.
For Instructors Wishing to Provide OCW
We have formulated processes that include the preparation and application stages through the filming (if necessary) and publication/dissemination stages for instructors wishing to disseminate their lectures and events using Kyoto University OCW. Reference materials related to copyright procedures are also available here.
Please use the links below.
Latest content
Last update: April 13, 2021
Advantages of Using OCW
Students can be provided with study resources for class preparation and review.
Lecture videos can be shown to students before class and used as supplementary teaching materials.
Instructors can view their own teaching objectively, connecting with improvements in teaching.
Those unable to attend lectures and symposia can access content at a later date.
Lectures and symposia can be archived.
Related Pages
Related Pages (External Links)