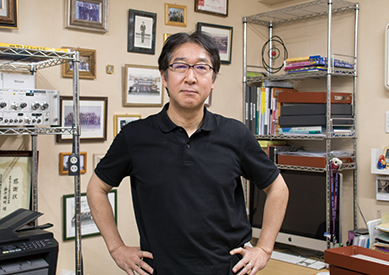 Flipped Classroom:
Respecting Individual Learning Styles
Professor Shuji Kaneko, Graduate School of Pharmaceutical Sciences, Kyoto University 
In 2016, Professor Kaneko switched one of his classes from the lecture format that he had used for many years to the so-called "flipped classroom." We asked Professor Kaneko to talk about the story of his switch to the flipped classroom, an outline of the class format, and his efforts to teach in a way that respects each student's individual learning style.
PROFILE

Ph.D. in and Professor of Pharmacy at the Division of Biomedical Sciences, Graduate School of Pharmaceutical Sciences, Kyoto University since April 2004
Previously, assistant professor at Toyama Medical and Pharmaceutical University (now Toyama University), assistant professor and associate professor at the Faculty of Pharmaceutical Sciences and associate professor at the Graduate School of Pharmaceutical Sciences, Kyoto University
Authored and edited the textbook Yakurigaku (Pharmacology), Kagakudojin, 2009
Became a principal figure in the Life Science Dictionary Project, which aimed to develop and revise a database of terminology in medicine and the life sciences, and worked to create Raifu saiensu jisho (Life Science Dictionary) in 1993, the e-book Igaku yakugaku kiso ei tango 1000 (Basic English Words for Medicine and Pharmacy 1000), Life Science Dictionary Project, 2013, the pharmacology learning software Deji yakuri (Digital Pharmacology), Step One Limited, revised edition, 2017, and other works
Provided Kyōdai gakujutsu goi deetabeesu kihon ei tango 1110 (Kyoto University Academic Vocabulary Database, Basic English Words 1110) edited by Kyōto Daigaku Eigo Gakujutsu Goi Kenkyū Gurūpu (Kyoto University English Academic Vocabulary Research Group), Kenkyusha, 2009 with audio files, which are used in English courses as part of the liberal arts and sciences courses at Kyoto University
Contributed to society in many ways, such as involvement in probes of drug-related incidents and cooperation with journalists in such matters
His favorite leisure activity being skiing
Preparatory Learning to Acquire the Essence of Class Content, Engaging with Applied Knowledge in the Face-to-Face Class
You introduced the flipped classroom last academic year (2016). In specific terms, what kind of class do you conduct?
I employ the flipped classroom model in my Seirigaku 2 (Physiology 2) class for second-year undergraduate students. Before class, I have the students do preparatory learning with videos and supplementary printouts in addition to the textbook. The videos are PowerPoint slides to which I have added my own audio explanations, each about twenty minutes in length and uploaded to YouTube, while the printouts are charts and graphs excerpted from the part of the textbook to be learned beforehand. I create these materials ahead of time and, at the end of the class, I ask the students to study using them.
I run the face-to-face class under a BYOD (bring your own device) format. That is, the students each bring their own PC or smartphone, and we lend PCs to students who are unable to bring their own. At the beginning of the class, I administer a quiz on PandA to check up on how well the students have studied before the class. After that, they engage in group learning as a kind of practical exercise. Each group investigates and discusses the practical exercises and several students make a presentation. I then discuss and evaluate what they have done.
How are preparatory learning and the content of the face-to-face class connected?
The preparatory videos and printouts summarize the essential parts of the lecture content. Also, the practical exercises during the face-to-face class are more based on applied content. These exercises had been taught in class before I adopted the flipped classroom format. In other words, in the flipped classroom, I take the bold step of not teaching the expanded content in the videos and printouts for preparatory learning, but having the students investigate it on their own during the face-to-face class.
So, in the flipped classroom, you are using problems which you used to provide the answers to during your previous classes and making the students deal with them on their own.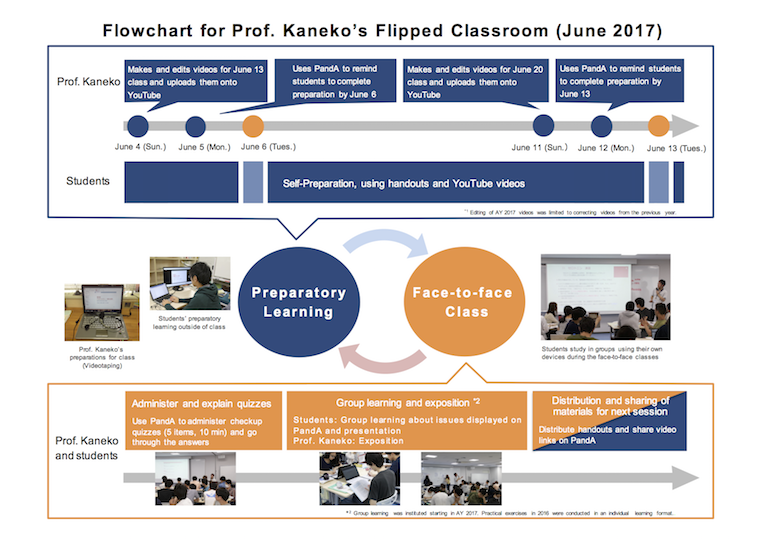 Flowchart for Professor Kaneko's Flipped Classroom (example from June 2017). Click to enlarge.
PandA Provided the Impetus for the Flipped Classroom
When was the first time that you thought about introducing the flipped classroom?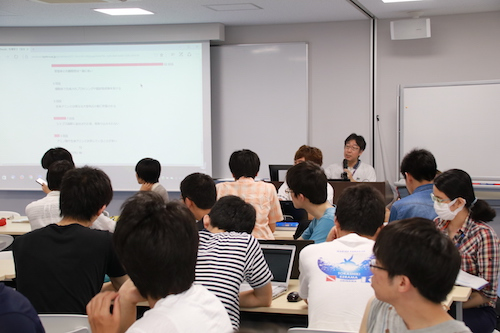 Professor Kaneko going over the answers to the quiz administered on PandA (July 4, 2017). He says that an advantage of this format is being able to display the correct answers and the grade distribution for the class immediately after the quiz.
It was about three or four years ago. Before introducing the flipped classroom, I employed a class format consisting of lectures and exams, but I got tired of always presenting the same content. When I presented past test questions and sample answers, there were some students who studied those and nothing else. There were students who came to class just to earn attendance points but slept through the lectures. When I was thinking about how to deal with this, I heard someone mention the flipped classroom, and I recalled that some time ago, I made efforts to use a class format similar to the flipped classroom in graduate education using WebCT (editor's note: one of the e-learning platforms). So I thought, "Oh, maybe I can make use of that format even in an undergraduate class."
Those efforts began with the Bioinformatics Center in the Institute for Chemical Research, using a teleconferencing system to conduct distance learning for graduate students. The essential parts of the lectures were videotaped and the videos were put up on WebCT, and the students could teach themselves by viewing the videos as often as they wanted. This implementation of something resembling the flipped classroom laid the groundwork.
So, you mean that when you were trying to improve classroom instruction, the concept and teaching style for the flipped classroom just seemed right, and a specific image came to your mind, don't you? Since "flipped classroom" is a phrase that just appeared around 2014, it was quite early when you first thought about introducing it three or four years ago.
Well, I had some image, but at the time I thought it would be troublesome to do it. The development of PandA was a major factor for employing flipped classroom. Because PandA came into being, I was able to look into the specifics of the flipped classroom, and the timing was right. It links up with KULASIS and allows students to make temporary course registrations.
How do you use PandA in addition to the quizzes you just mentioned?
I do things like sharing the video links or PDFs of the PowerPoint slides in the videos for preparatory learning, sending email to remind the students to do their preparatory learning, displaying practical exercises during class, and filling in questionnaires using Polls tool.
Main PandA functions employed in Prof. Kaneko's class and their uses

PandA Function

Use

Resources tool

Distributing YouTube links and
teaching materials

Email tool

Sending reminders to students

Tests & Quizzes tool

Administering and grading quizzes

Assignments tool

Displaying group learning tasks

Polls tool

Administering questionnaires
Through Trial and Error
So, when you introduced the flipped classroom last academic year, what kind of difficulties did you have in terms of course design?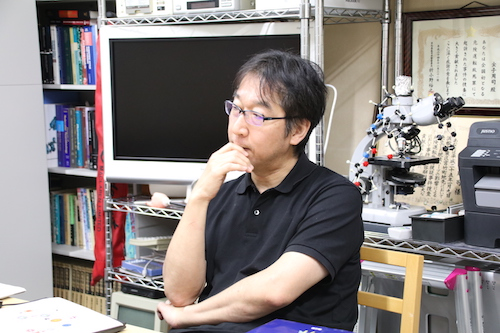 I gave a lot of thought to the problem of copyrights on graphs and tables when I created the materials for preparatory learning. When I published videos on the Web and wanted to refer to graphs and tables in the textbook, I had to pay attention to copyright problems. I finally solved the copyright problem by the method of writing only the textbook page number and illustration number on the slides in the videos. After making the source of the illustrations clear, I excerpted them and put them on the printouts that I distributed to the students.
Furthermore, I had to concentrate when compiling the videos. It's really hard to talk in an ordinary way while being taped for twenty minutes straight. It takes a long time to prepare a script, so I haven't done it. I'm not used to imagining myself talking with students, who are not present; that part was tough.
Certainly, some professors say that recording a lecture when no students are in front of them makes it hard to warm to the process. In your case, given your experience up to this point, your methods of explanation may have become more polished, right?
Of course, if the whole talk isn't in your head, you can by no means finish the video in one take. I can usually do so, but occasionally I misspeak myself, and then I have to go back and start over from that particular slide. These videos are much harder than making a presentation at an academic conference, even though both are about twenty minutes.
Are the videos for preparatory learning taped one at a time? Or do you tape them all at once?
The Physiology 2 class where I used the flipped classroom met on Tuesday, so I decided to tape the video for the following week immediately before that one on Sunday. When I tried doing it, I found that it was hard for my brain to switch gears. It was a matter of looking ahead to compile next week's materials, and then, on the next class day, having the students practice what I had videotaped the week before. It gradually turned into a real mess and was much more difficult than I had expected. I felt as if I were teaching two classes that were one week out of synch with each other.
I see. That might be because you don't talk about the content of the lectures in the preparatory videos during the face-to-face class and only give practical exercises. You had those kinds of problems last academic year, but how are the classes in this second year?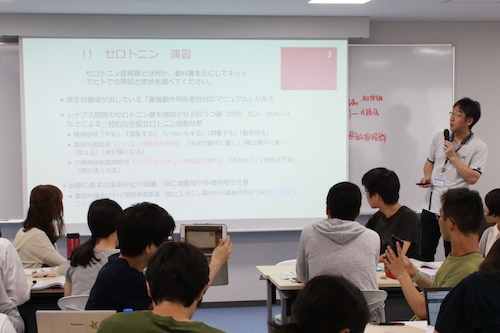 Professor Kaneko explaining a group learning task
When preparing the materials for preparatory learning this year, all I had to do was correct the materials I had compiled the previous year. When it comes to "corrections," I have made major changes from last academic year in the format for practical exercises in the face-to-face class. Originally, I thought that doing practical exercises in groups promoted active learning, but last academic year, the class took place in an auditorium, due to the need for Internet access and the number of students who could be accommodated. All the desks were in fixed positions, so I had the students work on the tasks individually. This academic year's class is held in a new lecture hall that was just completed this April, and it has movable desks, so I decided on a group learning format. When the new hall was built, I asked that it not have immovable desks.
Flipped Classroom Promoting More Individual Learning Styles
You changed your classes after going through a lot of trial and error, but what are the good points of a flipped classroom?
From the instructor's point of view, it allows us to spend less time lecturing and give more time for other in-class activities. From the point of view of the student, if they want to create a notebook during preparatory learning, it naturally takes a lot of time and is probably hard, but I think it allows students to study in the way that suits them best. Among the students, there are those whose preparatory learning takes only thirty minutes, but they still earn good grades. There are students who can understand the material just by looking at the slides and without listening to the audio, and there are students who watch the videos closely several times and take notes. Actually, the students reacted to the class in many different ways (Editor's note: See the table below, "Students' Opinions" [excerpt].) What I take from this is that Kyoto University students each have their own style of learning, and they want to study in their own way instead of adjusting to us. In that sense, the way of teaching is a good method for giving the students room to maneuver.
Indeed, so the flipped classroom is a method for granting students freedom. In that sense, it's groundbreaking.
To tell you the truth, when I first conducted the flipped classroom, I didn't think that the students would show up having done so much preparatory learning. There are more genuinely serious students than I thought.
That may be also because your face-to-face classes are designed so that you conduct them under the assumption that the students have taken the quizzes on PandA and have done the preparatory learning.
Reference: Students' Opinions (Excerpt) from Yakugaku senmonkamoku deno hantenjugyō no kokoromi 2016 (Flipped Classroom in a Specialized Course in the Pharmaceutical Sciences Curriculum 2016), p. 13

I was able to study as I wished since preparation and review were easy.

It was an effortless class in which I didn't use a notebook. (It suited me well.)

I understood more deeply because I heard the explanation again in class after having prepared for it.

It was good that I could take my time with the sections I didn't understand and breeze through those I did understand.

I'm the type of person who likes to create a detailed notebook, so first I put together some notes and then jotted additional things down during class. I liked that part.

In the second half, I printed out a summary and spent an hour reading for understanding, underlining points with a marker. Then I watched and listened to the lecture at 1.5x or 2x speed for about ten to fifteen minutes. That was the method I used for more thorough understanding.

In the class format in which the instructor writes on the blackboard, there are some regrettable times when I fail to hear what the instructor is saying as I copy what he writes. However, in the flipped classroom, the knowledge has already made its way into my head to some extent, so I don't really have to take notes and can concentrate on what the instructor is saying.

When I come to class well prepared, I hear an explanation again in class and then do practical exercises, so I think this method makes it easy to retain knowledge.

Since I need to prepare on my own before class, I was able to study bit by bit every week. In the usual lecture format, I study everything all at once before a test, but now I divide my studying up on a week-by-week basis.
Aiming to Teach for Deep Understanding and for the Future of Students
Is there anything you would like to improve or will there be any problematic issues when you teach in the flipped classroom format in the future?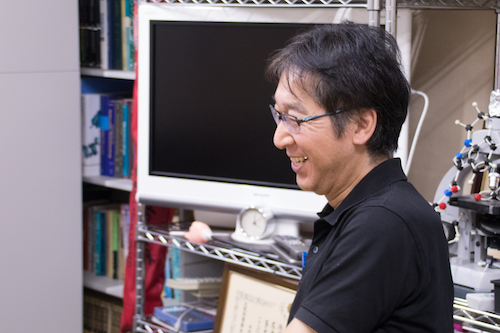 When asked why he is so enthusiastic about education, he answered modestly: "I'm not all that enthusiastic. I do it only because I want to take it easy, so my motives are impure."
Next year, instead of implementing group learning in every class session, I think I'll do it only occasionally. Now that I've tried it this year, I don't think that group learning is always effective. Instead, I think it's good to have group learning in cases where the students can compare notes and feed off each other's energy. I felt that when things need to be memorized based on surveys and the like, it is better to do that alone. In addition, I will once again revise the practical learning tasks through trial and error.
One of the issues for the future is that there was no change in the distribution of final grades due to the flipped classroom, no change between before and after. Admittedly, I added quite a lot of new questions to the final exam, and I eliminated the practice of granting extra points to students who submitted notebooks, so that may have had some effect. But it is interesting to note that the distribution did not change from before when I changed what I did that much.
In specific terms, what kinds of new questions have you put on the final exam?
They are applied and integrated questions, in which I focus on multiple types of content dealt with in different class sessions. I employ quite a difficult way of asking questions, so the average grade falls. Even so, I thought that with the students having to make the effort to learn in the face-to-face class, the grade distribution would be better than before, but at present it has not changed much. I don't think all students have to do is get higher grades on the test, but my hope is that the students will maintain their knowledge and retain information after having studied in this way and that they will have an intellectual basis as students. That is what would make me the happiest.。
What you have been talking about corresponds to what is called "deep understanding" in the field of education. When the students acquire this kind of essential understanding, it stays with them after they have studied for their tests. Even if this is not reflected in their grades, it may still have a huge significance, from the curriculum perspective.
Yes. People at the end of the curriculum usually cannot memorize all the different types of drugs through last-minute cramming. I want students at the second-year level to have knowledge that can serve as a foundation for them.
You mentioned grade distribution as an issue just now. You are going to have to work on it with more trial and error, aren't you? You can look at it and say that even though the class became more difficult, at least the grade distribution did not change.
I think it's fine to say that at least the grade distribution didn't grow worse.
Listening to what you said, I get the feeling that you are always thinking in terms of the students' future. I'd like to hear your thoughts about what you want your students to achieve through your class.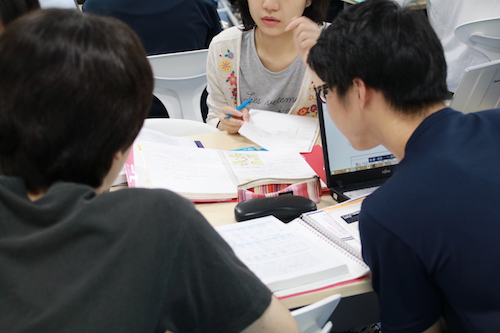 Group learning
The objective of group learning is to develop the ability to assume leadership within a group. I am pleased if students not just are satisfied with their own learning, but also are able to teach other students. Once they go out into society, leadership qualities will be required, and deep down I hope they will be able to assume the altruistic task like teaching people as opposed to just minding their own business.
Certainly leadership might be an ability that it is difficult to foster through lecture courses alone.
Finally, I'm sure there are other educators who would like to try the flipped classroom. Do you have any advice for them?
It's hard to do everything at once, so I suggest starting with one class period. This is just my own experience, but once you try the flipped classroom, you want to plunge into it completely. Even so, as an experiment, use some extra space in your lecture plan for two weeks and try a session worth of the flipped classroom.
Thank you. This has been very informative. Thank you for taking time out of your busy schedule to talk to us.
Contact us if you have any opinions or thoughts about this article.

We are waiting for information from informed people about educational improvements made using Kyoto University's internal ICT (information and communication technology). Please get in touch with us using the inquiry form.
Questions asked by: Mana Taguchi and Sachika Shibukawa
Article composition: Wataru Kono
Photography: Takeo Suzuki
Interview date: September 21, 2017

Published online: December 21, 2017 (Original article)
April 25, 2018 (English article)