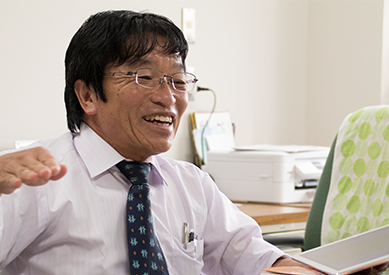 More "Human Education"
Through Electronic Textbooks
Professor Masaaki Baba, Graduate School of Science, Kyoto University 
A Kyoto University professor will be introducing electronic textbooks starting this year (2017) in cooperation with the National Federation of University Co-operative Associations (NFUCA), according to one of our former colleagues. This colleague met him through his hobby, soccer, and says that he has a wonderful personality.
We were eager to seize the first-time opportunity of finding out about the example of using electronic textbooks at Kyoto University, but Professor Baba of the Graduate School of Science told us flatly, "Electronic textbooks are nothing but one of our tools."
We asked Professor Baba to talk about what his long-term aims have been in his nearly thirty years of teaching at Kyoto University.
PROFILE

DSc. in and Professor of Physical Chemistry at the Division of Chemistry, Graduate School of Science, Kyoto University, since April 2004
Previously, Assistant Professor at the Faculty of Science, Kobe University and Associate Professor at the College of Liberal Arts and Sciences as well as Faculty of Integrated Human Studies, Kyoto University
Authored many textbooks such as Kiso ryōshi kagaku: Ryōshiron kara bunshi wo miru (Basic Quantum Chemistry Looking at Molecules in Terms of Quantum Theory), Saiensu-sha, 2004; Shin kiso kagaku: Busshitsu to bunshi wo manabō (New Basic Chemistry: Let's Learn about Matter and Molecules), Gakujutsu Tosho Shuppan-sha, 2006; and Kyōyō to shite no kiso kagaku: Mi ni tsukete okitai kiso no kangaekata (Basic Chemistry As General Education: Basic Concepts to Absorb), Kagakudojin, 2011
Edited and co-authored Gendai butsuri kagaku (Modern Physical Chemistry), Kagakudojin, 2015, and Butsuri kagak yōron: Rikei jōshiki to shite no kagaku (Summary of Physical Chemistry: Chemistry As Common Knowledge in the Sciences), Gakujutsu Tosho Shuppan-sha, 2016
Been an active participant in efforts to improve classes in liberal arts and sciences courses after returning to Kyoto University, his alma mater, in 1989 and responsible for the soccer course offered through the Sports Practical Training program since 2014
His hobbies being tennis, listening to music, and learning about Kyoto (Kyotogaku)
Electronic Textbooks As Communication Tools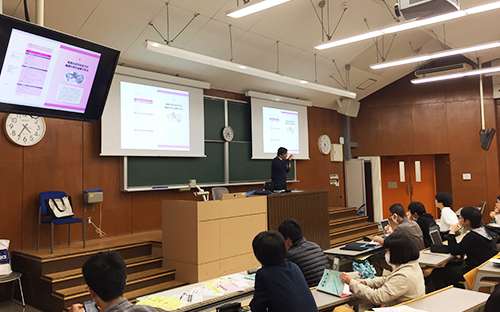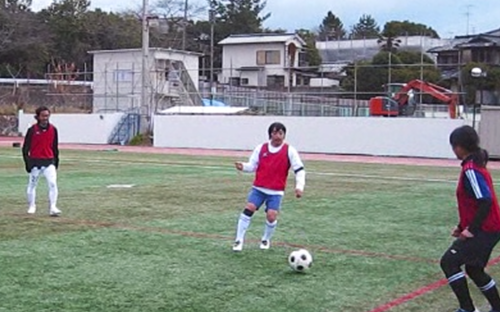 (Left) Prof. Baba's lecture, "Basic Chemistry for Liberal Arts Students" (taken May 2017 and supplied by Prof. Baba)
(Right) Prof. Baba in the Sports Practical Training's soccer course. He himself enjoys playing futsal, an activity through which he met the former colleague who introduced him to us. (Still from the Sports Practical Training Introduction Video)
First, may we ask you about how you have implemented the use of electronic textbooks?
The class, in which I am currently using an electronic textbook, is called "Basic Chemistry for Liberal Arts Students" (or simply referred to as "Basic Chemistry"). I first taught in 2007. It is a restructured version of the former "Outline of Chemistry" course. During the course, I not only teach basic knowledge about chemistry, but have my students discuss and make presentations about "issues without answers," such as environmental problems and the advantages and disadvantages of nuclear power.
Scientists cannot solve these kinds of issues by themselves. So, I think it's important especially for students in the liberal arts field, such as public administration, law, and economics, to think also about such issues. I designed the course with that thought in mind.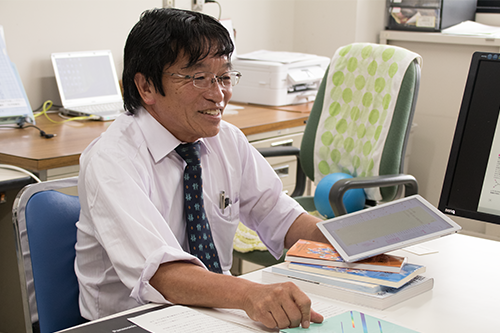 I began using the actual electronic textbook in the first semester of this academic year (AY 2017). I obtained the cooperation of the Student Cooperative in creating an electronic version of Basic Chemistry As General Education, which was the textbook we had been using. I published it in the VarsityWave eBooks platform of the Digital Educational Contents Support (DECS), which the NFUCA developed. I'm having students use it if they want an electronic textbook.
Not so many students have purchased the electronic version, probably because it's the first year. But once they try using it, it seems to suit them perfectly, so it makes me happy to see students looking at their PCs and smiling during class.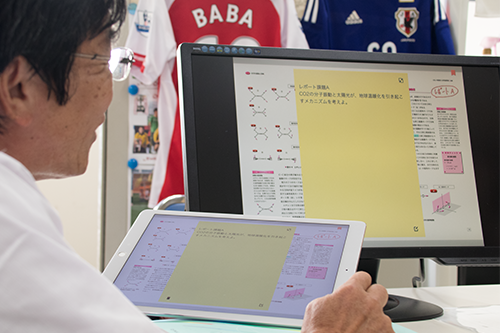 Prof. Baba connected the e-textbook to a display to explain its sticky note function.
At this stage, the major functions of the electronic textbook are highlighting, sticky notes, and the ability to share comments with the instructor or fellow students, as well as a function that allows the instructor to take opinion surveys during class and share the results with students.
The ways to display shared information or make learning logs visible are issues for the future. I've made my wishes known to the NFUCA, and we are currently discussing methods for improvement.
I am often asked by my colleagues about the costs for the introduction and technical operation of these textbooks. Actually, it costs almost nothing to introduce them. Rather, I think that enthusiasm about beginning a new effort is important. When it comes to introducing and operating the system, the staff in charge at the NFUCA will stay in close contact with you and advise you, so you have nothing to worry about.
You incorporated electronic textbooks into an existing class. What is the story behind your decision to do so?
Electronic textbooks are something I have been interested in, and I have thought about introducing them for a long time. About three years ago, I was an executive director of the Kyoto University CO-OP, and there was talk of me participating in an electronic textbooks operation planned by the NFUCA. After some discussion during the development stage, I decided to introduce it. That's the story.
When I did so, my first expectation was that the textbook would function as a tool for communicating with the students. That's because my goal is to effect a more "human education," and communication plays an important role in achieving that goal.
Follow Up on Students who Stop Coming to the University
I'd like to ask you to give more details about what a "human education" is.
The first thing is following up with students who cannot keep up with the class. Most of the students in my class, Basic Chemistry, are first-year students who are taking it for a liberal arts and sciences course requirement. The first semester of a freshman year is very important, and according to the results of one survey, most of the students who will later drop out are already isolated from their surroundings during that period and stop coming to the campus.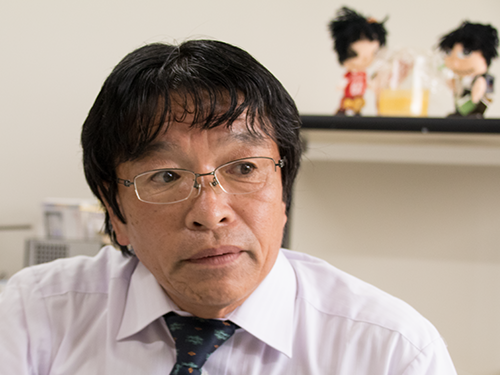 Prof. Baba told us about the importance of following up on first-year undergraduates beginning in the first semester.
For such students, for example, in the Faculty of Science, which I belong to, we have a system in which each advisor is in charge of a small number of students. First-year students with poor attendance at liberal arts and sciences courses are contacted by email and urged to come to a face-to-face meeting, but once students have stopped coming to campus, most of them fail to reply to any emails that we send.
We take measures other than sending emails in order to establish communication-for example, using social networking sites (SNS)-but that doesn't work very well. My own view is that students at Kyoto University are the ones who were high achievers before entering the university, and their self-image and pride often make them unaccustomed to relying on other people.
Because of this, many students who cannot keep up with their studies develop a sense of bewildered helplessness and have no other way than to stop coming to the university. Hearing someone tell them, "pull yourself together and keep striving" or something similar is simply painful and frustrating.
Certainly it is difficult to follow up on students who are no longer able to come to the university.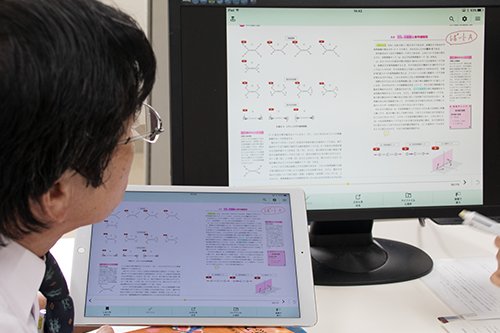 Prof. Baba showed us report assignments using the electronic textbook. (Click to enlarge.)
It is indeed. So, what should I do? When they have an electronic textbook, they can open it on the smartphone or computer that they normally use and see that the class did this today, that the assignments for today were such and such, and there are some written assignments to be completed. Even if they are at home, they can find this out. For my part, I can use the electronic textbook to tell the student to just try studying at any time. That is, using the electronic textbook gives me a natural way to keep in touch with students who have stopped coming to the university as well as with students who do come to class.
You mean, you insert a textbook into the same media environment as the social networking sites and Internet that students normally use, don't you?
That's right. Today's students are very adept at using information and communication devices (ICT), and using an electronic textbook lets them encounter the information covered in class in an environment that gives them the feeling of viewing something on the Internet. For the students I mentioned before, the ones who stop coming to class, being able to use familiar devices as a contact point with the university when they want some information or want to obtain help is a major plus. I hope that electronic textbooks become a way of motivating these kinds of students to resume their studies.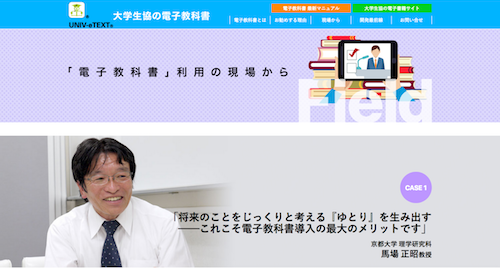 An interview with Prof. Baba appears on the NFUCA website, including an account of his contribution to the development of the electronic textbook. (Clicking on the image will take you to the interview page.)
People tend to think of these devices mostly in terms of being able to show beautiful images on the newest devices, but that is not the only objective. For me as an individual, the most important point is that I can communicate with students, conversing with them one-on-one. I explained this to the developers, and they understood what I meant.
Aiming for a "Human Education"
What other thoughts do you have about a more "human education"?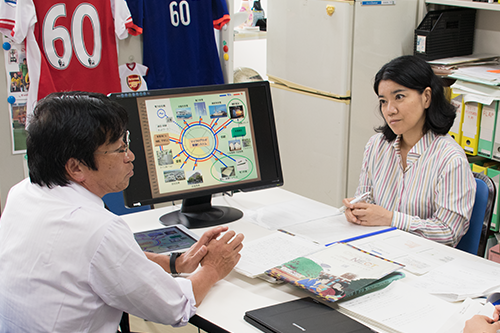 Prof. Baba says that we have to think about education in terms of the entire course of the students' life.
Another thing, I feel like by educating students I want to take a broad view of the entire course of their lives.
At Kyoto University, we are put in charge of good students who were carefully brought up throughout their elementary and secondary school years. We then have to educate them in such a way that we can send them out as people who will eventually become society's leaders. If that is our goal, it is no good to teach them only specialized courses. From the time they take their liberal arts and sciences courses, we have to make them concerned about all of society, help them acquire basic concepts, and assist them in bringing what they have absorbed into their own reality and externalize their knowledge.
To do that, we also have to ignite a burning desire to learn in our students, and we need to teach them basic way of thinking during class. If the students can acquire and absorb the basic way, all we have to do is to encourage them to search knowledge and data themselves. For it to happen, the Internet and ICT devices can help them.
In specific terms, what kinds of classes do you conduct?
For example, when we covered the theme of global warming in the Basic Chemistry class, we talked about the recent and familiar Typhoon No. 18, which struck in 2017 and was the first typhoon since weather records were first kept to make landfall on all the four main islands of Japan: Kyushu, Shikoku, Honshu, and Hokkaido. I also talked about proposals to take the giant bonfires in various shapes that are lit on the mountainsides surrounding Kyoto during the Gozan no Okuribi festival and replace them with LED lights. I then talk about the Kyoto Protocol and the Paris Agreement, and in the end ask them to think about Japan's power supply configuration in the year 2030.
Japan's power supply configuration?
That's right. According to the plan that the Ministry of Economy, Trade, and Industry published in 2015, renewable energy will make up 22-24% of Japan's power supply configuration, while the percentage of nuclear power will be scaled back to about 20%. Even so, these are difficult numbers to achieve. In the former case, the percentage of today's renewable energy, including hydroelectric power, is only about 12%, and we can't really increase hydroelectric power, so we have to double the use of other power supplies. So, when we ask specifically what power supplies we can get, the answer is that none of them will be easy to increase.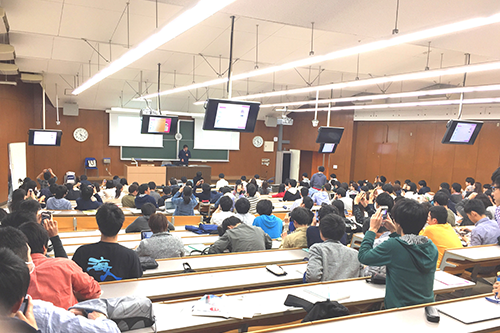 A scene from Prof. Baba's Basic Chemistry class (photo provided by Prof. Baba). Since enrollment in Basic Chemistry exceeds 300 students, he currently does not use a discussion format, but students who want to may make presentations. The discussion format is used in one of Prof. Baba's other classes, Integrated Chemistry, a liberal arts and sciences course. Here is a video describing Integrated Chemistry.
Conversely, when it comes to nuclear power, we have experienced Japan's worst nuclear disaster, so it is only natural that we should discuss whether to scale back nuclear power to about 20%.
Once I have shown the students these viewpoints, I assign them the task of writing a report in which they consider the power supply configuration of Japan in 2030. Then the students do a lot of painstaking research.

This kind of class, in which students engage in an assignment that requires knowledge from both the liberal arts and the sciences, and discuss and consider the issues, is what I think of when I talk about "liberal arts and sciences." In this kind of class, electronic textbooks and ICT devices that let students search for information can be used to the greatest effect.
From the Reform of Liberal Arts and Sciences Courses Through Two Earthquake Disasters
May we ask what led you to adopt the current class format?
The events that led to my awareness date back to 1989, when I came back to Kyoto University as an associate professor in the chemistry laboratory of the College of Liberal Arts and Sciences. What I felt after coming back to my alma mater was that most of the liberal arts and sciences courses were conducted in a tedious and inefficient manner, even from my point of view as a faculty member.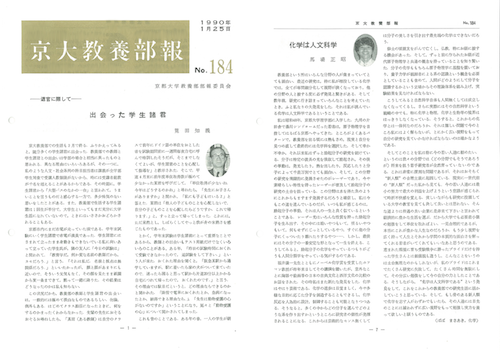 The article that Prof. Baba wrote for the university's magazine the year after he returned to Kyoto University. (Click to enlarge the image). The "discovery" that he discussed-namely, that chemistry is one of the humanities-brought about his awareness, which has continued to the present day.
Then I decided that I would try classes with student participation, at least in the classes that I was in charge of, and since the Internet and LCD projectors were not yet widely in use at the time, I created and printed out various charts on transparency sheets, and we held discussions as I used an overhead projector to project them on the whiteboard.
After that, when the Internet and notebook PCs became commonplace, I incorporated slides and computer graphic videos into my classes. I think it was the dawn of the ICT-based education era.

Five years later, when the College of Liberal Arts and Sciences was abolished and the Faculty of Integrated Human Studies was established, I undertook the task of reforming the liberal arts and sciences curriculum. I recall working hard to set up the "pocket seminars" that were precursors of the seminars at the Institute for Liberal Arts and Sciences (ILAS).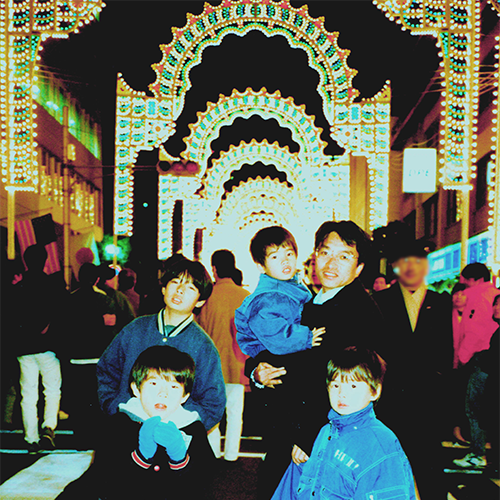 December 1995. Prof. Baba is pictured here with his four children attending the Kobe Luminarié, which was held to honor those who died in the Great Hanshin-Awaji Earthquake and to pray for the recovery of the region. (Photo from Prof. Baba)
Prof. Baba considers his family ties to be a major source of strength in his career as an academic.
I want the younger generation to think about how they will live as human beings. I became firmly convinced that I wanted to motivate students to live that way, and the major occasion that made me think that way was the Great Hanshin-Awaji Earthquake (what Westerners call the Kobe Earthquake) in 1995.
Living in Kobe, I suffered during the earthquake, but I saw how the students at Kobe University, my previous workplace, with whom I had been conducting joint research, had their lives destroyed in one instant, and feelings of wanting to help them somehow welled up within me. I think I was also in shock.

Then I began embarking on activities to support students.
Even outside of class, I began counseling students on their studies or research or the future course of their lives. Even now, students who formerly avoided coming to the university gather in my campus office, and I take care of them.
So your experiences during the Great Hanshin-Awaji Earthquake influenced your views on a more "human education"?
Yes, that's right. It was around that time that the Kyoto Protocol was adopted. As an expert on chemistry, I was interested in global warming, so I came up with the idea of starting classes that dealt with environmental and life problems for people and students.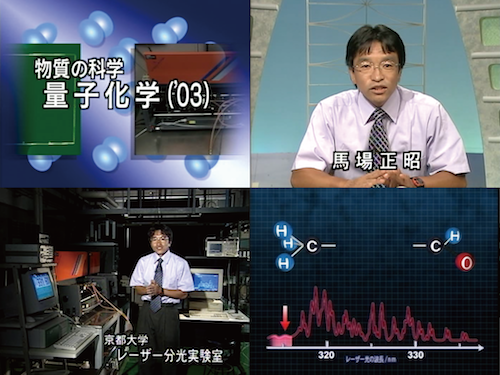 The class that Prof. Baba offered for the Open University of Japan (photo source: Prof. Baba). Preparing for this course brought him in contact with the possibilities for video technology and led to his current use of ICT.
The first one was a video course for the Open University of Japan. When I returned to the Faculty of Science in 2004 as the Faculty of Integrated Human Studies was being reorganized, I decided to deal with these problems in the liberal arts and sciences course that I was in charge of. That was Basic Chemistry.

As I mentioned earlier, the themes of debates were problems like whether we should reduce CO2 emissions or whether we should continue using nuclear power in the same way that we do now.
You used the advantages and disadvantages of nuclear power as a subject of discussion even before the March 11 earthquake and tsunami, didn't you?
On that point, it was precisely in February 2011 that the galleys for Basic Chemistry As General Education, the textbook used in Basic Chemistry, were completed. I dealt with tsunamis in that book, and when the Great East Japan Earthquake occurred the following month, honestly, I couldn't help but to shudder.
But to tell you the truth, until that point, I had never imagined the loss of power or a meltdown at a nuclear power plant due to a tsunami.
For that reason, when we debated the advantages and disadvantages of nuclear power, most of the liberal arts students were opposed, while I, a man of science, was confident of the "fact" that it was "safe in scientific terms." From the point of view of reducing carbon dioxide emissions, I thought that there was no alternative to using nuclear power.
That nuclear mythology was destroyed by the Great East Japan Earthquake, and I recall teaching classes right after that and being filled with thoughts that almost made me cry.

One of my students was from the city of Obama in Fukui Prefecture, and her grandfather had worked at a nuclear power plant in Ōi for a long time. She said that nuclear power may be dangerous, but that life itself would be impossible if jobs disappeared.
In Active Learning classes that incorporate debates, the diverse opinions expressed in these debates bring me to sudden realizations, and the students often make me study.
I Especially Want Younger Scholars to Work Hard for Education
I heard that you are going to retire in two years. In addition to your electronic textbooks, are there any words of advice about education at Kyoto University that you would like to leave as a legacy?
I plan to complete the textbook in the next two years and give it to younger scholars so that they can carry on using it.

During this time, I have actually tried using electronic textbooks while exchanging information with instructors at other universities, and what I feel is that electronic textbooks can be used for lecture classes, seminars, workshops, and practical training, and nearly all other kinds of class formats. I think they can be used in almost all science classes, language classes, environmental science classes, and so on, but most of all, I feel that they may be used to the greatest effect in specialized classes.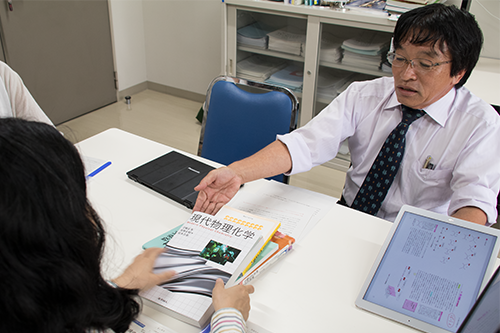 Prof. Baba presenting the textbook that he was involved in its writing. He says that he has been able to make use of his experiences in teaching in his own research. Gendai butsuri kagaku (Modern Physical Chemistry) Kagakudojin, 2015 is the first Japanese textbook in the field to be printed with full-color illustrations. He is currently investigating possibilities for an electronic textbook version.
Few members of the younger generation have the kind of "digital allergy" that can be a barrier to the adoption of electronic textbooks, and I think they will be able to make good use of them.

In connection with that, I want younger scholars to work hard for education. I have heard that they are so busy with their research that they never get around to it.
Yet I have had many experiences in which things I did for the students came around and ended up contributing to my own growth.

I want researchers to have a real sense that they can grow through involvement in basic education, and at the same time, I want to urge them not to make excuses about being busy with research and that enjoying ICT education with the students is not bad.
So you're saying that your experiences in teaching are not only for the students but can also provide benefits for the instructors.
What would you say to the students?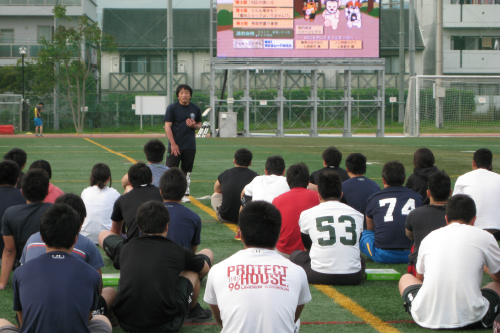 Prof. Baba telling students that he wants them to grow as human beings. He is not only responsible for a Sports Practical Training course but holds a lifesaving certificate. (Prof. Baba provided this photo, which shows him instructing team members affiliated with the Sports Union in the use of an AED.)
I would like to tell the students that they should not study just to accumulate credits for graduation. Instead, they should study while thinking about the future. Specialized knowledge is important, of course, but it's no good if you have only that. Without power as a human being, you will be unable to work or do research.

Since you have succeeded in entering the university, don't become just a grade grubber. Put a lot of effort into club activities or other campus activities.

In order to do that, I would like to give them a variety of possibilities and choices, and I would like the university to construct the kinds of mechanisms that will allow students to reach their full potential as they move from high school to the university and from the university into society.
Finally, I'd like you to look back at some of your accomplishments up to this point.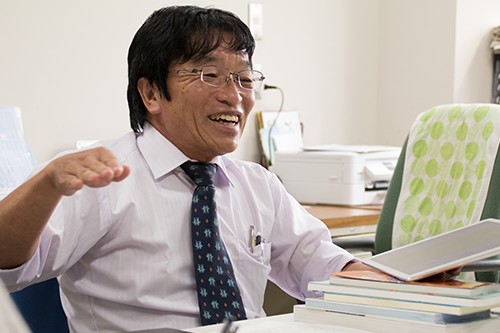 As a former member of the College of Liberal Arts and Sciences, Prof. Baba referred to himself as a "leftover." When I tried to get him to say that he was part of the majority at Kyoto University, he replied, "I'm in the minority, of course. But that's no problem here. On the other hand," he laughed, "the university couldn't function with only people like me."
As I look back, I see myself as a "leftover" from the old College of Liberal Arts and Sciences and, in that capacity, I have created a variety of teaching techniques, textbooks, and teaching materials. I think the College of Liberal Arts and Sciences is the source that gave me that kind of expertise and the tools for education.
However, everyone who came from the College of Liberal Arts and Sciences will be retiring from now on.

To a certain extent, I would like to pass the expertise down to the next generations, but not everything should be the same, and I want young people to break down the old ways as necessary and make steady progress in creating new things.
Thank you for setting aside so much time to answer our questions.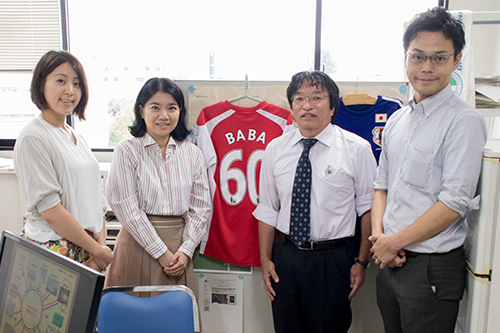 From the Left to the Right: Graduate student, Ms. Shibukawa (Graduate School of Education), Associate Prof. Taguchi (the Center for the Promotion of Excellence in Higher Education), Prof. Baba (Graduate School of Science) and Program-Specific Researcher Suzuki (the Center for the Promotion of Excellence in Higher Education).
In the background is the uniform that Prof. Baba's students gave him on his sixtieth birthday. It is inscribed with both his name and his age.
Editor's Note
For more than twenty years, Professor Baba has aimed for the type of education known as "education of the whole person." During the interview, he apologized for going off topic and told us about an experience he had while commuting to work recently when a young man called to him and approached him.
The young man said to Professor Baba, "You teach the Basic Chemistry for Liberal Arts Students, right? As an undergraduate, I took your course, which revealed to me the path I should follow in the future. I am now an assistant professor in the faculty of economics at a nearby national university."
"At that time, I once again felt a real sense of the power of the liberal arts," said Professor Baba. It seemed to us that his pride in being an educator was engraved on his face after a quarter century of dealing with university-level education.
Contact us if you have any opinions or thoughts about this article.

We are waiting for information from informed people about educational improvements made using Kyoto University's internal ICT (information and communication technology). Please get in touch with us using the inquiry form.
Questions asked by: Mana Taguchi and Sachika Shibukawa
Article composition: Takeo Suzuki
Photography: Wataru Kono
Interview date: September 20, 2017

Published online: November 22, 2017 (Original article)
April 25, 2018 (English article)